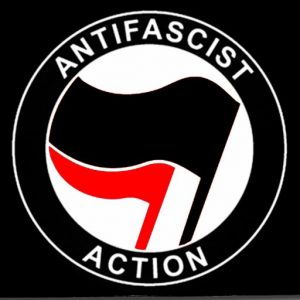 People often call Antifa a terrorist organisation. This is not correct for multiple reasons. Antifa can stand for Anti-Fascist, Anti-Fascism, or Anti-Fascist Action (on their flag). First of all, Antifa is an idea, not a centralised organisation; you cannot join a centralised group known as "antifa" that covers all of the members of antifa. If someone says they are a member of antifa, they most likely mean that they identify with the idea and maybe sometimes protest or advocate in other ways. You may also be part of a group that identifies as part as antifa, but in no way are they "official" antifa.
Not all people who identify with antifa are violent people who go on the streets and beat people up and do damage to property. Many people who identify as antifa are people who advocate online, people who do peaceful protests, people who argue against fascism or other authoritarian ideas, or just some one who does not like fascism or similar ideologies. Just being against fascism can make you an anti-facist.
The reason antifa sometimes damages property is because many of them are leftist. Many people who are on the far left generally disagree with having private property. They agree with personal property, but not private property. They see land owned by some rich person as private property. Personal property is stuff that you use for yourself, such as your tooth brush, you phone (in most cases), food, and other stuff that cannot be used to give yourself and advantage.
Not to mention that not all antifa protests actually hurt anyone, many of them are peaceful people just fighting for rights. Often times when someone is hurt, it is often a police officer or someone who they are protesting against (they often do counter protests). They see police as a threat to their freedom and that's why they sometimes attack them. Sometimes they are only attacked because they came there or they came there and started to attack and stop the protesters who in some cases are not doing anything wrong, in fact, the police often seem to make the violence worse and cause up more trouble.
Not to mention that there has not been a recorded murder caused by antifa protest that I am aware of so far. If anyone has any evidence that shows otherwise, feel free to send we a link to a news article or video, and do the same if someone else says antifa has killed someone. This is a common myth that is going around.
Many revolutionaries like some people who consider themselves antifa believe that the state and bourgeoisie will not give up their position of power peacefully and that their would have to be some violence involved in order to bring about social change. Many violent protests lead to change, you just do not hear about them as often because you are discouraged by the state and bourgeoisie to do them. Look at the Latin American Revolutions, Haitian Revolution, Russian Revolution, and overthrow of the Shah. All these probably would not of been possible without violence.
Many say that Antifa are the real fascists because they use violence and that's considered fascist. While authoritarians often use violence, they most often do it with the goal of controlling other people, while antifa in most cases is fighting against being controlled. Fascists are for control, while antifa are against control and are fighting against being controlled or people who want to eventually control them or help someone else control them. If there is no violence, then the state will feel free to control us more and more, and they are being violent for their own self-defence, sometimes it is hard to avoid hurting other people, you just got to stay away if you think you will get hurt.
Another misconception is that antifa thinks that they are strong and that they are in fact weak. This often comes from how they dress up and sometimes seem to look tough. Just because you cover your face does not mean you are tying to be tough, in fact, it can show that you are trying to hide you  face, this is because you may be afraid of what your government may do to you. Also doing violent acts does not mean you think you are tough, it just means you are doing violent acts. Antifa people are not any weaker than an average person, how does hiding yourselves or anything like that make you much weaker? It just means you fear a much stronger power, not that you are weak.
Similar to above, many people say that your ideology is bad if you have your face covered and often show pictures of antifa, the KKK, and other protesters. This does not make your idea bad, it just means that you are afraid people who do not like your idea are going to do something bad, or you may think it weakens chances in your life if a potential boss does not like your political beliefs (why many people do not talk about politics in general). It can be a sign of weakness to not talk about your political ideas in public, but considering that there is also stuff you can loose especially if your idea is uncommon, its not all that bad to hide yourself in some cases. The only reason I cover myself when I protest is because I do not want the state to try to get me in trouble, but I will happily fight for my ideas with you.
If we go to the definition of terrorism, there is often no universal meaning, though it is often "using violence or threats to influence politics or religion." UK, US, and UN laws have similar definitions and are more specific and include to civilians, property, and the state in most cases.  While some people who are with antifa may do these things, they do not do it nearly as much as many governments do, such as the US, UK, and UN. The wars in the middle east that they create kill many civilians and destroy property there, and in most western European Countries and North America seem to think there countries are great. Police agencies terrorise much more than antifa does, and most people love the police in their countries.  The United States is Hypocritical when they call someone terrorists when the country was created because of "terrorism."  ISIL are labelled terrorists by the United States, when most of the acts they did are done by the United States government. The United States destroys things like ISIL, they take land like ISIL, they kill people in these conflicts like ISIL, and so much more. The United States considered The People's Democratic Republic of Korea a "rouge" state when they hardly attack anyone. So before you call Antifa terrorists, look at the country you live in, as there is a chance they are even worse.
Another less commonly seen definition for terrorism is "enemy of the state."  But as in the example I showed you above, your government may not be all that great and you may want to rebel. I doubt the United States considers many of their founders terrorists when they were enemies of their government (The British Government at the time). This just shows the hypocrisy in the United States and other nations idea of what terrorism is. And what is even worse is punishing people for being "enemies of the state."
Probably the biggest argument, is that just because a few people does something, does not make everyone in the group bad. Just like people from a different place than you. Maybe a person from some Asian country is stereotypically good at math, but that does not mean all or most actually are. Its just a few are and that's the reputation people give them, not all stereotypes are true, and many are based on the examples that get the most publicity. Most people who identify with antifa do not go out and punch people, just some do and that's the reputation they have gotten.
I hope to update this article in the future but hope it has cleared some things up for you.